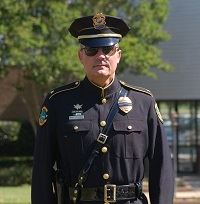 Chief David Popwell
Niceville Police Chief David Popwell informed the city council on Tuesday February 8th that the department's current drones are effectively grounded until further notice.
Niceville's current sUAS, more commonly known as drones, were purchased from Axon. Axon currently provides Niceville with its body cameras and is based in Phoenix, Arizona. The problem with the drones Axon supplies is that a Chinese firm, DJI, makes them.
The drone program is in its beginning stages. The department purchased two $6,500 drones and has five officers training to become certified by the Federal Aviation Administration (FAA) to fly them professionally.
According to Niceville Police Department Communications Manager, Sean Teets, A Department of Defense memo ended the use of the DJI drones for the Niceville Police Department – and other departments around the country. "They did an extensive background check on data [the drones] pick up in flight," explains Teets, "The [drones] have permissions through the [DJI] app that controls the device. It picks up all of the network IDs for internet service in the air [near where the drone is flying]. [The DoD] is concerned that the [information the drones are collecting] is getting sent back to servers in China."
According to Chief Popwell, Axon has promised the department that if the rule is not changed, the company will pay for drones on the Department of Defense's approved sUAS list.
Axon advertises drones on their website
Teets says the drones, whichever ones the department ends up using, will have a variety of applications for the department. "The plan is to use them for search and rescue, missing juveniles or elderly persons with dementia," he said. "We will also use them to take aerial photos of crash scenes and in coordination with our SWAT team."
Niceville PD says that the drone manufacturers currently on the DoDs approved list are Altavian, Parrot, Skydio, Teal, and Vantage Robotics.